With spring and summer not too far away, you may be thinking about redesigning your garden, even transforming it completely for the warmer months.
Ideally, you should put as much effort and time into getting this right as you would with any part of your home where you are making design decisions.
The good news is, even if you have a small garden, it's possible to create a beautiful and relaxing space with the right outdoor furniture. All it takes is a little thought and planning and choosing the right products. Our one big tip is to do your research and take your time.
Whether you want to design a dining space for all the family or simply need somewhere to relax, read and sip a glass of wine or two in the evening, there are options for every kind of space.
Here we look at the different aspects of a garden revamp that you need to consider to make your new design a success. Get it right and you'll have the perfect space to enjoy for many years to come.
List of the Tips on Garden Furniture
check out this awesome complete list to revamp your garden with the garden furniture
Decide what you want your garden space to do
Designing your garden and finding inspiration
How to Make the Most of a Small Garden
Choosing Your Furniture
Invest in quality
Metal vs rattan garden furniture
Creating a space for dining
Do you need outdoor heating?
Maintaining your outdoor furniture
Protecting your garden furniture during winter
The best brands for outdoor furniture
Revamping Your Garden With New Garden Furniture
check out this amazing idea to revamping the garden with new furniture.
1. Decide what you want your garden space to do
As with most things in life, it helps avoid mistakes and ensure you get the results you want if you have a plan in place. This begins with thinking about what you want to do with your garden space and looking at all the amazing possibilities.
You might want to sit back in the sun and listen to some music. Maybe you'd love something bigger where the whole family or friends can gather for parties. You might fancy yourself as a barbecue king or queen and would love a dedicated place for dining. Here are some questions to ask:
How often are you going to use your garden space?
Is it just for summer or all year round?
Do you want plenty of privacy?
Do you want to create a wildlife garden that you can sit in and enjoy?
Do you want furniture that is low maintenance or something a little more intricate?
Do you want furniture that you can move around or lounge in?
Do you want furniture that looks traditional or something more modern?
Are you going to add other things such as a patio or water feature?
These are just a few things you might like to ask yourself before you start making decisions you can't go back on. Make a list of what you want and decide whether it's achievable or not for the space that you have.
If you have a large garden, the location is going to be critical, for example. Smaller gardens are all about making the most of the area that you are going to transform. Larger areas give you more scope but can be just as challenging.
This is the time you can dare to dream. Don't be afraid to think beyond the simple patio set. Once you have your wants and needs nailed down, you can start thinking about the design and where everything is going to go to make the most of your space.
2. Designing your garden and finding inspiration
There's something special about sitting in the garden on a balmy summer's day, without a care in the world. First and foremost, gardens are good for our health. It's physically good for the heart and it also has amazing effects on mental health, building self-esteem and reducing stress.
There are plenty of places to get inspiration if you are new to designing garden spaces. You can check online sites like Pinterest or visit a garden furniture showroom or buy some gardening magazines.
Print off the things you like from online, or clip out images if you're more old-fashioned, and create a mood board that you can refer to as you go along. This is also an excellent time to look at the different brands and styles of garden furniture that are available for 2021.
The next step is to get yourself some graph paper and make a plan for your garden seating area and include any other features you might like. Measure your garden space and use this as the basis of your design.
Take a moment to look around first and pick the best location. The last thing you want is to set up your garden space and find the neighbours gawking at you as you try to relax or that the place is getting too much or too little sun. Just like in Goldilocks and the three bears, you need to find something that is 'just right'.
It's vital to get out there and take a physical look. What does the world look like from the part of your garden?
One thing you want to guard against is getting too much furniture so that the space is cramped and therefore feels claustrophobic. You want enough room to stretch out and enjoy the view and the company. That's why measuring everything and putting it down on paper is a good idea.
Another idea is to find some online design software that you can use to create your garden plan. Here are just a few you might like to try:
The purpose of this stage is not only to understand whether your design will work but also make sure there are few surprises when you do get to work and start buying furniture.
One added tip: If you're planning to include a parasol or garden umbrella, make sure to check how much clearance you have.
3. How to Make the Most of a Small Garden
One problem we should note is that your design choices will be more limited with smaller garden space. That's not always a bad thing as it should mean it's easier to make decisions and pick the right furniture.
As you might expect, measuring your space is pretty important. It's not just the seating area but also the ground and plant beds around you. When the borders start to blossom in spring and summer, how are they going to impinge on your seating area?
In most small gardens, you can introduce either a lounger or two and a table or a bistro-style dining set. It's the space you allow around these features that is so critical. If the edges of your garden are too overgrown, it can make everything look so much smaller. Try to go for cleaner borders and introduce potted plants that you can move around if you want to create better options.
There are lots of different options when it comes to planting. Stop thinking of your space as a simple flat area. Take advantage of walls and raised areas to include more plants and features.
4. Choosing Your Furniture
The focus in your garden is going to be the furniture so it's critical to take your time before you finally decide what to buy. Outdoor furniture is quite different from inside furniture simply because it is open to the elements.
There are several issues you need to think clearly about. The first is that it's best to invest in a quality garden furniture set that is built to last many seasons rather than one that can easily be damaged by the weather.
Another thing is the weight. If you have a garden that gets windy at times throughout the year, you don't want it blowing away.
The main choice tends to be between rattan and metal though there is also wood (something which needs more maintenance and care). Looking after your furniture to keep it in tip-top condition is vital. For more information, take a look at our blog: How to Protect Your Garden Furniture.
Next, you need to consider the type of furniture you want in your garden. A comfy sofa looks fantastic and can be a brilliant centre-point. Recliners are also great choices, especially if you love to lay back and get some rays during the summer.
Colour is also a consideration you'll want to focus on. It's often a good design choice to have muted colours that complement the more vibrant hues of the garden. If you want more colour, you can add cushions to lift your garden furniture and give it more personality.
Online is a good place to start finding different brands of garden furniture and discovering how much everything is likely to cost. You can use your research here to inform your choices for when you go out to a garden centre or showroom to view furniture in real life before you buy.
5. Invest in quality
Whatever the budget for your outdoor space, you need to make the most of it and buy quality rather than staying focused on savings. If you can combine the two, all the better. But in the first instance, opting for high quality has several advantages:
Quality garden furniture is built to last. You are less likely to encounter problems over the years as you enjoy your sofa, recliner or lounger. It has a much better return on investment.
It's easier to maintain quality furniture, both indoors and outdoors. That means there's a good chance of keeping the resale value high should want to change in the future.
Quality outdoor furniture is also comfier than cheaper models. The cushions are well-padded and generally thicker, with better quality material and stuffing.
It's worth saving a little longer to get the garden furniture that you want rather than settling for second best. Many of the top outdoor furniture manufacturers and suppliers nowadays are not just focused on great quality designs but have sustainability at heart.
It's often difficult to tell quality when looking at something online, of course. You can check reviews and what people are saying but there's no real substitute for visiting a showroom and trying things out in real life.
6. Metal vs rattan garden furniture
There are many different types of garden furniture from PVC to hardwoods like teak and cedar. The two most popular choices are metal and rattan.
Let's take metal first. Within this category, there are several different choices. Iron or wrought iron is a traditional choice and can make a very elegant centre-piece for your garden.
Usually painted, this type of garden furniture is heavy-duty and difficult to move around. It can also start to rust over time. Having said that, if maintained properly it will last a good few years and can make your garden look stunning.
A better option, and becoming increasingly popular in recent years, is aluminium. This is lightweight and strong and is more durable than iron. It requires a clean now and again but doesn't have the maintenance issues that other metal furniture has.
The good news about metal furniture is that it is available in a wide range of different styles, giving you more scope if you want something out of the ordinary.
Check out our guide metal and aluminium garden furniture for some more information.
Rattan is a natural garden furniture material. Made by weaving together climbing palms, it is often a popular choice because it fits with the natural feel of a garden. It's a furniture material that has been used for centuries and has recently become popular again with new, innovative designs that stand out.
The great property that rattan has is that it's not only natural but durable as well. While there are fewer design choices than with metal, it is a stylish option that is strong and comfortable at the same time.
While what makes the base of your garden furniture is important, so are the cushions and padding that come with them. Most garden furniture has removable cushions which can be taken inside during bad weather or over the winter. These are usually the most critical aspect when it comes to comfortable seating.
A lot depends on personal preference here and the type of look you want to achieve for your garden. Each furniture material has its pros and cons and it's worth keeping an open mind before you make your choice. You can add more personality by including your cushions and throws.
7. Creating a space for dining
Many people don't just want a garden for lounging in, they are looking to create a functional dining area that will be used again and again. There's nothing more exciting than having a dinner party or barbecue outside, where everyone can sit and enjoy the sun.
Location is even more important here. You don't want your dining area next to a part of the garden where there are lots of insects, for example.
There are two things to consider in addition to location. You need the ground to be relatively level, of course. You don't want your dining table tilting or moving while you are eating.
The view is also important – you don't want people staring at a brick wall while there's your whole garden to enjoy.
Other things to include in decision making are:
How many people are going to be using it?
What shape dining table works best?
Is there plenty of room for chairs?
If you have a small garden, then consider swapping a dining table for a buffet table instead. This can give you a greater number of options when it comes to entertaining.
Big dining tables aren't always the right solution. If you just want a bistro-style table that a couple of people can use, there are also plenty of solution out there. These are great for morning breakfasts and suppers in the evening.
8. Do you need outdoor heating?
Even in the best UK summers, you can still end up with days that are just too chilly to sit through or dine outside. You may also want to use your garden over the winter – something which is becoming increasingly popular in many households.
One option is to include outdoor heating into your design decisions. There are some cost-effective solutions there which are easy to set up. Electric outdoor heaters are fairly simple to manage and can help keep everyone snug and warm even when the nights get cooler. They also provide a warm glow that adds atmosphere to any gathering and come in a variety of different designs.
9. Maintaining your outdoor furniture
One of the big concerns that people have when investing in garden furniture is how to maintain it so that it lasts longer. While quality outdoor tables, chairs, sofas and recliners are pretty sturdy, they do need some maintenance over time. This depends on what they are made of.
Some hardwood furniture such as teak benches, for example, tend to look better if they are left out to weather. That doesn't mean it won't require some form of revarnishing or repair at some moment during its lifetime.
Most garden furniture will need some form of storage or protection. While rattan can withstand the rigours of the weather and metal will take time to rust, they still degrade over time. If you want to maintain them for as long as possible and keep their value at the same time, you should have a plan in place.
Metal: Check for areas where rust might be forming. Treat this a wire brush and then paint over with enamel. You can also maintain wrought iron by putting on a coat of protective wax.
Plastic coated metal: This is often a cheaper option but can be problematic for several reasons. Once the plastic starts to split it can be difficult to repair. The plastic can also get damaged if chairs or tables are blown over in the wind. Regular checks and effective storage is the only solution for maintaining longevity.
Aluminium: This is less prone to rusting and can remain outside. It's important to clean your garden furniture down every so often, however.
Rattan: This can suffer from mould and mildew when left outside, especially if water gets into the rattan weave. Regular cleaning with a weak soap and vinegar solution will help maintain your furniture and covering it can help prevent issues developing.
When it comes to your cushions and soft furnishings, you should never leave these exposed to the elements. Always remove when the furniture is not in use and store in a safe, dry place. They can be susceptible to mildew so it's important to check them every so often and they should be cleaned with a specialist upholstery detergent and dried properly before use. You can get waterproof furnishings but it's still a good idea not to leave these out in bad weather.
Check out our blog on how to protect your garden furniture if you want to find out more.
10. Protecting your garden furniture during winter
While some furniture can stay out in the open, it's always a good idea to give them a bit more protection during the winter months.
If you don't have a shed where you can store everything, then the next best option is to invest in some covers. These are designed to stop the damp getting in and ensure that your remains in good condition. These are usually heavy-duty and designed to cover your furniture completely and are a small investment that can improve the life-span of your chairs, loungers and sofas.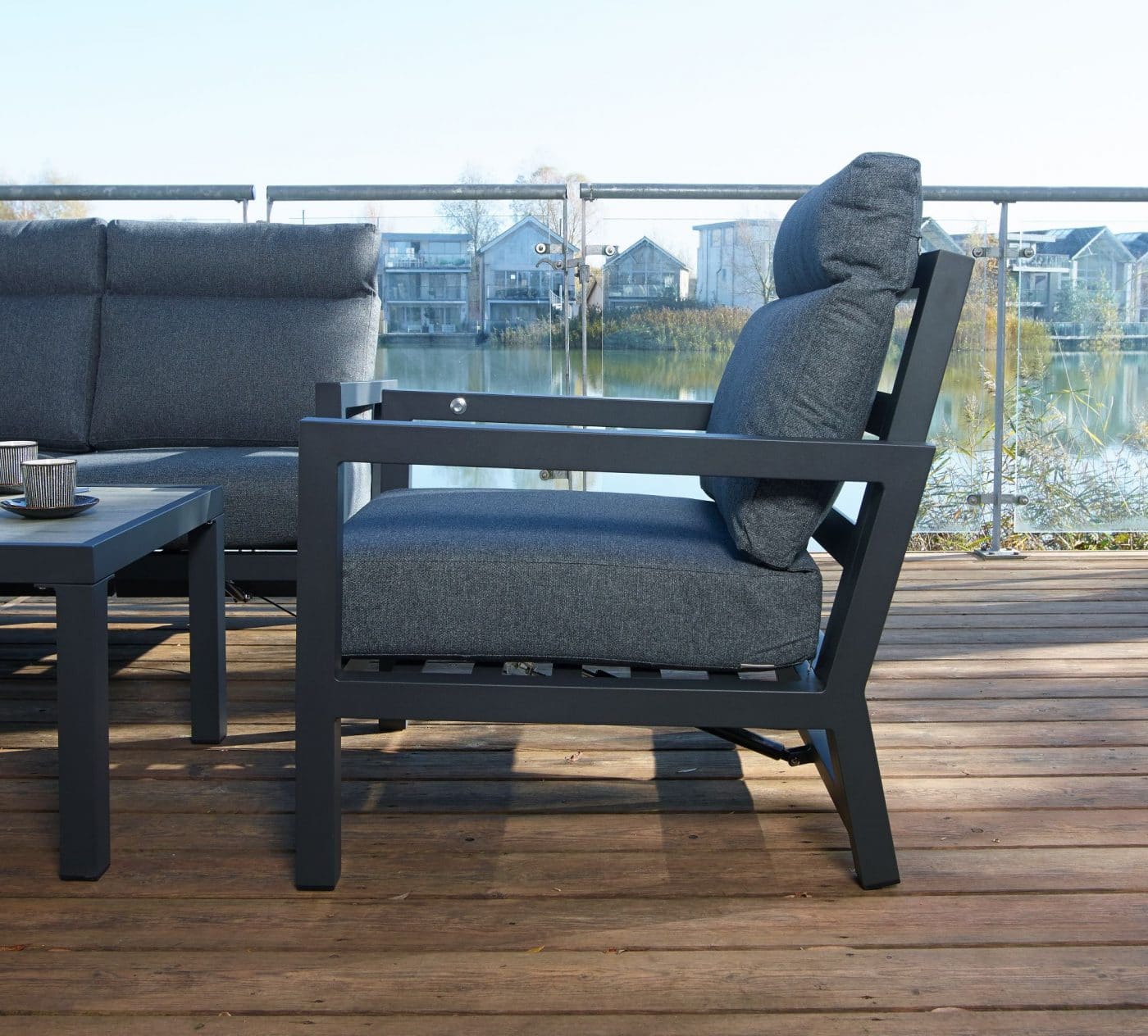 11. The best brands for outdoor furniture
The big question many garden enthusiasts have is which is the best brand for outdoor furniture. There are some amazing companies out there creating stylish and durable loungers, sofas and dining sets that help bring any garden to life.
That's why we always advise doing your homework and checking out individual brands before you buy.
At gardenfurniture.co.uk, we pride ourselves in seeking out great products and building partnerships that help take garden furniture to the next level. Among our stock, you'll find some big names in outdoor décor. These include:
This is one of the leading designers and manufacturers in the UK at the moment and their garden furniture has been displayed at RHS Chelsea Flower Show since 1990. They are particularly noted for their stain-proof furnishings that make their furniture much easier to maintain.
From casual dining to modular sofas, their range is suited for gardens of almost any size.
This company was started in 2000 by two school friends and, over the last 20 years, has gone on to make a big splash in the garden furniture sector. Key to their success has been a commitment to using responsibly sourced materials for their products.
They produce a range of recliners, sofas, dining sets, parasols and furniture covers designed to add style and panache to your garden.
This company is becoming a big player in the garden furniture market and we're lucky to have them as a partner. As with others in the sector, they are focused on sustainable practices and innovative, attractive designs.
They offer different ranges made from recycled and recyclable materials with influences taken from all around the globe including the West Indies and Asia.
Kettler covers everything you might need for your garden space from amazing furniture collections to heating, barbecue sets and lighting.
Based in Worcestershire, they have 30 years of experience delivering high-quality designs that give you the option to mix and match for any garden space, small or large.
With clean lines and a more Nordic look to their products, Life Outdoor Living produce ranges of teak, aluminium and wicker furniture that looks stunning. Based in Holland, they are focused on functionality, comfort and sustainability.
These are just a few of the garden furniture suppliers that our team at gardenfurniture.co.uk have built relationships with to help deliver quality and choice to the UK market. They are brands that are well worth taking a closer look at if you want to create a vibrant and comfortable garden space.
Why choose gardenfurniture.co.uk?
Our aim at gardenfurniture.co.uk is to cherry-pick only the best in outdoor furniture for our UK customers.
With more than 20 years delivering exceptional service and more than 300 quality products in our current catalogue, we allow you to transform your garden into something spectacular. You'll find everything from small bistro tables and loungers to large sofa sets and luxury dining tables and chairs.
If you are considering changing your garden furniture this spring and summer or want to create a completely new space as a centrepiece, browse our catalogue today. Our amazing showroom is situated in Knaresborough and opens 7 days a week where you can visit and try out more than 40 amazing sets of furniture at any one time.
Visit our main website today, order online today with free delivery and get ready for a great summer in 2021.